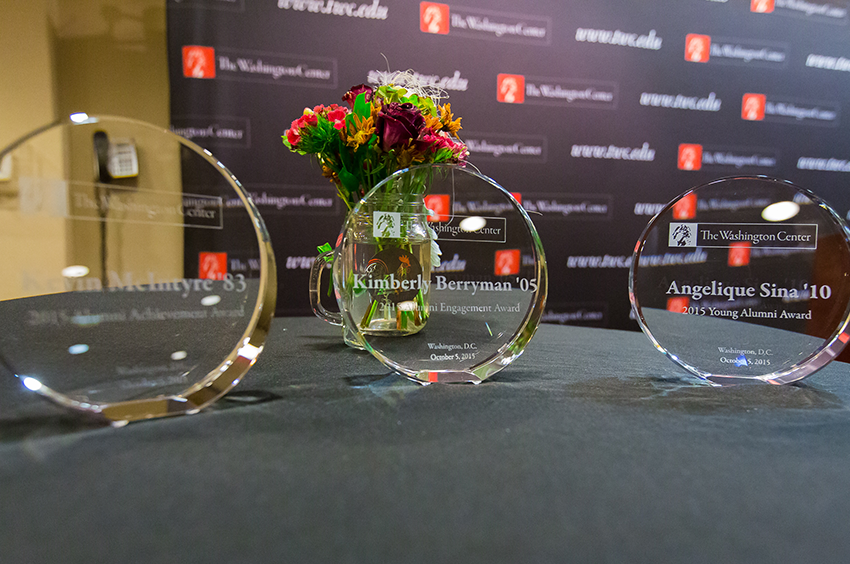 The Washington Center will recognize three outstanding former students at its annual Alumni Awards Breakfast on Monday, Oct. 5.
Kevin McIntyre '83, Kimberly Berryman '05 and Angelique Sina '10 will, respectively, receive the Alumni Achievement, Alumni Engagement and Young Alumni awards. These honors highlight each individual's professional accomplishments, community service and dedication to TWC.
Attend the Alumni Awards Breakfast
Help us honor these alumni on Monday, Oct. 5, 2015, from 8:30 to 10:00 a.m. at the TWC Residential and Academic Facility (RAF). More information is available via this RSVP link. Please confirm your attendance by Friday, Sept. 25.
Alumni Achievement Award: Kevin McIntyre '83
Over the past quarter-century, Kevin McIntyre has distinguished himself as a leader in the ever-changing realm of energy law and policy. McIntyre, a partner in the Washington, D.C. office of Jones Day, has counseled and represented companies in all of the industry's sectors, safeguarding his clients' interests as energy markets and regulation have undergone dramatic change. He shares his expertise with his field by regularly writing and speaking on energy law and policy.
Deeply committed to his community, McIntyre has provided pro-bono services to underprivileged clients at the D.C. Bar Advice and Referral Clinic and has represented individuals seeking asylum in the United States. He has served on several boards for his law-school alma mater, Georgetown University, and volunteers for several organizations, including the John Carroll Society, the Cathedral of St. Thomas More and the American Century Theater. An enthusiastic TWC alumnus, McIntyre is a frequent guest speaker for students in the Law and Criminal Justice professional track. He and his wife, Jennifer, also provide generous support to TWC's student scholarship funds.
Alumni Engagement Award: Kimberly Berryman '05
Ever since Emmy Award-winning CNN producer Kimberly Berryman returned to Washington two years ago, she's been supporting TWC and its students in any way she can. From attending brown-bag breakfasts at the RAF to hosting student tours at CNN's Washington bureau, Berryman has provided students in the Media and Communications professional track the exact kind of "only in D.C. experiences" TWC promises. An equally engaged alumna, Berryman has attended several local events and recently volunteered to serve as a Washington-area alumni ambassador.
When she's at work, Berryman produces packages for "The Lead with Jake Tapper," which airs weekdays on CNN. Prior to joining CNN, she worked with Tapper at ABC News, where Berryman was part of an Emmy Award-winning "Good Morning America" team in 2013. She holds bachelor's degrees from Loyola Marymount University in Los Angeles and George Washington University.
Young Alumni Award: Angelique Sina '10
Among TWC's most dedicated local alumni, Angelique Sina spends countless hours supporting students and alumni of the Cordova y Fernos program, with which she interned in 2010. In recent semesters, Sina has served as a judge for the program's capstone presentations, coached students in public speaking and presentation skils and provided assistance to Cordova alumni who return to Washington. And that's just a quick peek at her many TWC-related activities.
Sina holds a bachelor's degree from the University of Puerto Rico Aguadilla and earned a master's degree from Johns Hopkins University. She currently works with the World Bank Group's International Finance Corporation. Active in Washington's charity and leadership organizations, Sina serves on the executive board of the National Society of Hispanic MBAs and volunteers for several others. Passionate about supporting her native Puerto Rico, Sina recently established the first Puerto Rican Women's Leadership Series and co-founded the Washington branch of the Friends of Puerto Rico Network.
About the Author

Follow on Twitter Visit Website More Content by The Washington Center