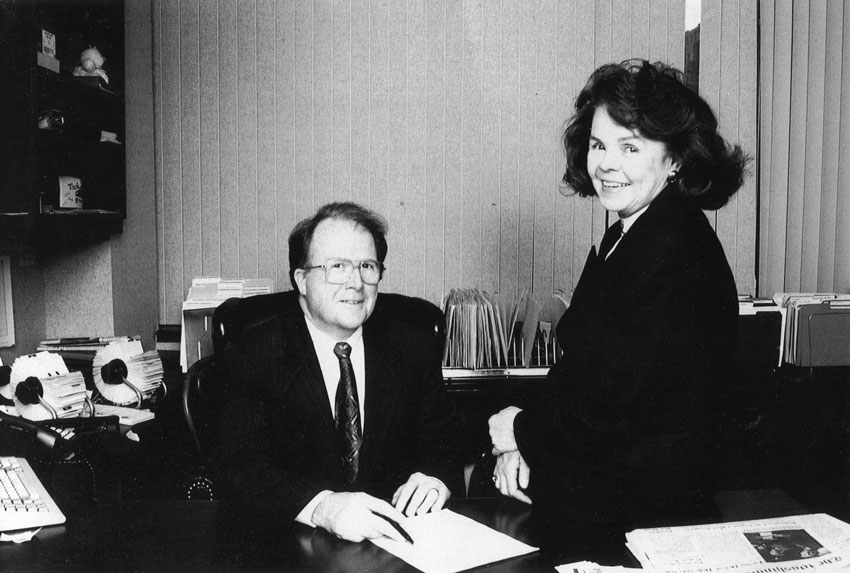 Join The Washington Center in celebrating our 45th Anniversary, and the more than 60,000 young people and partners who've helped us further our mission of providing dynamic, experiential learning opportunities.
The year was 1975. A sense of cultural and political upheaval pervaded the country. The outlook for the future appeared hazy, at best. Yet, for William (Bill) M. Burke, possibility, promise and optimism remained in abundance, and dwelled in the next generation of college students. They just needed help igniting their passions and launching career journeys in order to achieve their full potential.
Amongst the Washington, D.C. landscape of government, political, private sector, and non-profit agencies and organizations, the opportunity to help college students enhance their traditional academic experience awaited. It would be here that Bill Burke and his former university colleague, Sheila A. McRevey, founded The Washington Center for Learning Alternatives (known today as The Washington Center for Internships and Academic Seminars or simply TWC).
At The Washington Center students would capitalize on a wealth of opportunities: discovering how to translate theory to practice, gaining practical experience, observing and analyzing leadership models, and establishing a professional network, all while taking those first steps into the professional world. Students would become informed, civically-engaged, global citizens ready to assume leadership roles in their communities, workplaces and governments around the world.
It was vitally important that these opportunities be attainable to students of all backgrounds. Engaging in diversity was essential for personal growth and civic responsibility. In that spirit, The Washington Center has always held equal access for all students as a top priority.
Bill Burke dedicated the balance of his career to the development of The Washington Center program and facilities. Thanks to his dedication, The Washington Center became the premier provider of internships and seminars for higher education partners and students worldwide that it is today.
The Washington Center remains true to its founders' mission. We honor Bill Burke's legacy by providing young people with enriching experiences, professional development and connections, and caring support that enables them to pursue successful careers and fulfilling lives of civic engagement and service.
We invite you to join us in celebrating the 45th Anniversary of turning Bill's vision into reality and the more than 60,000 young people whose lives have been transformed because of The Washington Center.
Learn more about The Washington Center's 45 Years of Monumental Impact at twc.edu/45.
About the Author

Follow on Twitter Visit Website More Content by The Washington Center