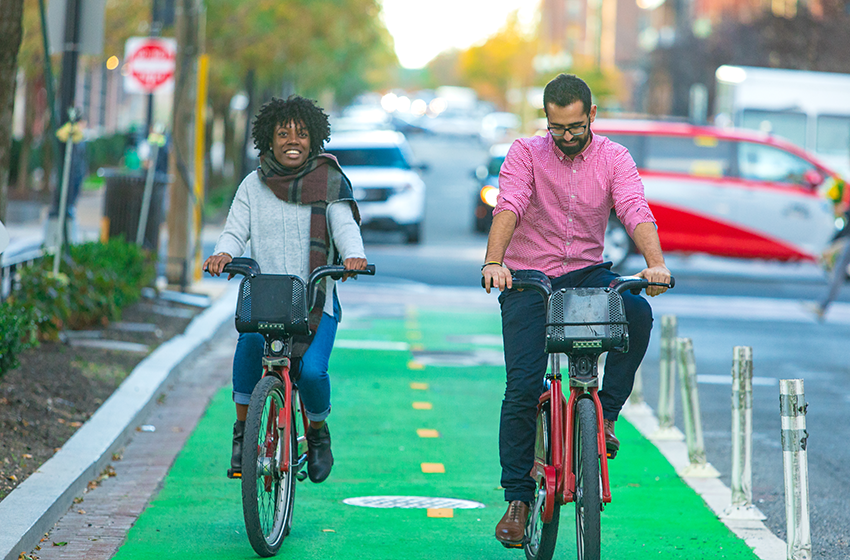 Adjusting to city life can be a little difficult especially if you're coming from a small town like me. One of the benefits of being an intern in D.C. is that I'm able to rely on phone apps to make my life a bit easier.
After being at The Washington Center for a few weeks, here are the apps I recommend every intern download:
WMATA: Since D.C. is a huge public transit city, you need to plan your trip and make sure you leave with enough time to get to your destination. While it doesn't have an (official) app, WMATA's website works well on your phone. It allows you to plan your trip via metro rail or bus, tells you how long it will take, and shows you if any lines or busses are experiencing problems. The best part? You don't have to know what metro stop you're going to: Just type in the address of your destination and it'll do the rest!
Uber and Lyft: Sometimes you're in a time crunch or metro doesn't have a station close to your destination. That's where Uber and Lyft come in! It's usually more economical to take the Metro, but if your feet are tired, you need to be somewhere ASAP or you're headed somewhere off the beaten path, these apps are a must!
Capital Bikeshare: And if the weather is really nice and you want to get a little exercise in you can download the Capital Bikeshare app. Stalls are located on almost every street corner and you can grab a bike for a few minutes or a few hours. D.C. is a very bike friendly city with many bike lanes separated from the traffic so you'll be safe on your journeys.
Restaurants: Nowadays most restaurants have apps that offer rewards programs that can earn you some free meals. Download them! As a true Northeaster, I have to recommend the Dunkin' Donuts app which lets you sync your gift cards and allows you to pay through the app. 200 points gets you a free beverage and who doesn't love free coffee? Moe's is another favorite. You can order and pay through the app, so your burrito is ready to go when you walk in. And like Dunkin' you get a freebie on your birthday, too! Even better: both of these places are right on the other side of the NoMa Metro station by the RAF!
UberEats: Sometimes you're craving food, but don't have the time or energy to get it yourself. UberEats gives you access to the entirety of D.C.'s incredible food scene with just the tap of a button. After a short wait and a small delivery fee someone brings it right to the door. I wish everything in life worked like this.
Venmo: We've all been there: you're out with a bunch of friends for dinner and you're spending 20 minutes trying to split the check. Some of you brought cash, others only want to pay with their cards. Venmo simplifies this by allowing you to transfer money between friends. Even better? If you have that one friend that always promises to pay you back but has a habit of forgetting you can request the funds.
StubHub or Ticketmaster: I need to get myself to a Capitals game while I'm here. Although they aren't my team (go Bruins!), I can still browse for cheap tickets using these apps. If you're not into hockey or basketball, D.C. has plenty of concerts, ranging from indie bands playing at small venues all the way up to singers like Justin Timberlake. Most venues are downtown like the Capital One Center (formerly the Verizon Center) that is located in Chinatown. Just be aware of the fees that sometimes get tacked on!
Groupon: My love for Groupon is undying because you can score some great deals on it. I once scored a plane tour of Toronto for two on Groupon for a steal. They offer deals on experiences, restaurants, services and actual things that you never knew you wanted. What did I ever do without a mug with a cookie pocket?
Mapquest or Waze (or a map that's different than the default Apple Maps app): Sometimes the maps app that comes with your phone just gets it wrong. If the directions seem a little funky or it's not working correctly, have a backup app to get you where you need to go! My backup of choice is Mapquest.
Twitter, Instagram, Facebook and Snapchat! You need to be able to show the folks back home and back at school how much fun you're having! We all like to make people a little jealous, don't we?
About the Author

More Content by Taylor Raga