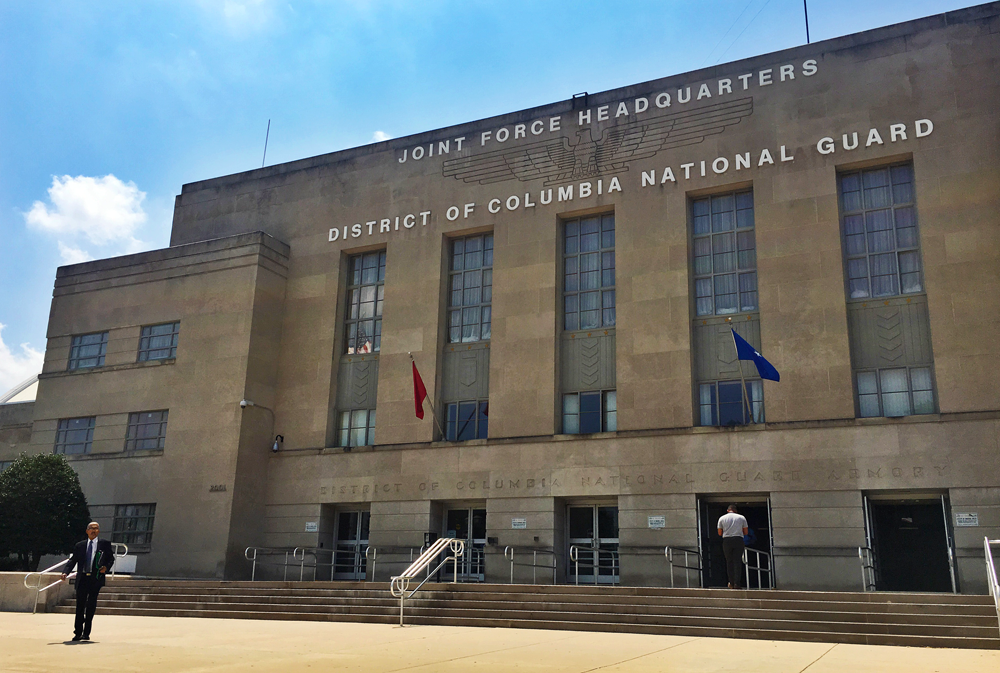 Program participants joined DC Hires Vets, an all-day event sponsored by DC Mayor Muriel Bowser's office with the goal of introducing Washington-area veterans to job opportunities in the public and private sectors.
One of the highlights of the event was a panel moderated by Michael Duerr, program advisor for The Washington Center's Veterans Employment Trajectory (VET) initiative.
Duerr, a veteran himself, was joined by three other panelists with diffuse military experiences under their belts: Dr. Mike Wooten, Deputy Chief Procurement Officer for the District of Columbia, was a twenty-year Marine Corps veteran who retired with the rank of major; Dominic Ju, Co-Founder and Managing Principal of BluePath Labs (a strategy and technology advisory consulting startup), was also a Marine as well as a Senior Intelligence Officer for the Department of Defense, and Aundrea Hunt, a 2017 Spring Fellow at Dog Tag Bakery who is a former airman and a current U.S. Army reservist.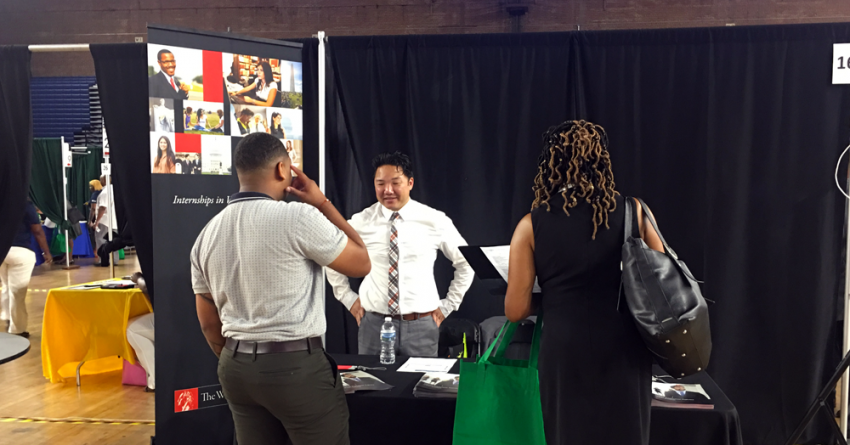 The discussion focused on four learning objectives:
the opportunity for veterans to hear from their peers about the transition to civilian life;
sharing best practices and lessons from transitioning;
the benefits and complications of communicating, utilizing and leveraging one's military service towards a civilian career;
and resources and tools you used or wished you used to succeed.
The questions Duerr asked addressed these four objectives: The panel shared a variety of accounts and advice with the audience, ranging from how they dealt with the culture shock of their first jobs in the civilian world to sharing issues they've experiences with 'on-boarding' or 'retention of military vets. All their answers exposed a well-known truth to veterans that might be less evident to civilians: the two experiences entail vastly different occupational hazards, so adjusting from a uniform to civilian clothes can sometimes be more challenging than is usually assumed.
The career fair offered Veteran job seekers a unique opportunity to make personal connections that are impossible when submitting a resume online.

Vegas Curry,
Veteran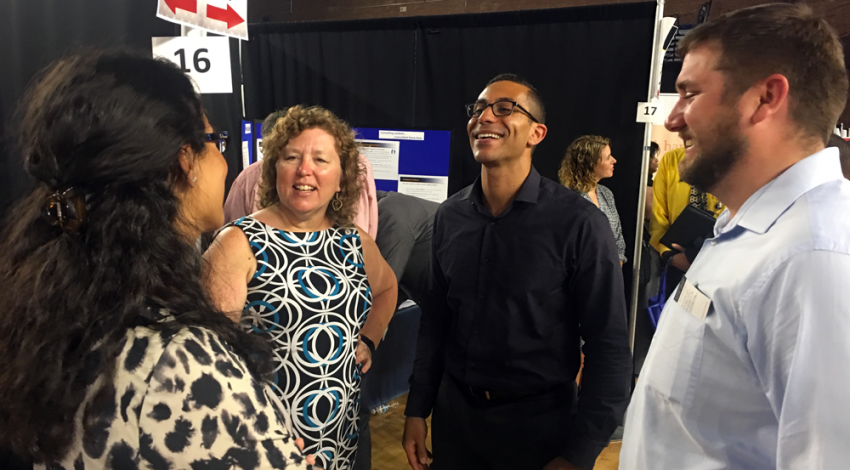 The panel's many points and opinions – as well as the DC Hires Vets event, more generally – were warmly received by the audience of veterans in attendance. Vegas Curry, one of The Washington Center's VET participants, was impressed, stating, "The career fair offered Veteran job seekers a unique opportunity to make personal connections that are impossible when submitting a resume online." Margaret Lowing, yet another VET participant, hewed back to the theme of transition's difficulties, saying, "To be able to spotlight how much the TWC VET Initiative has meant to me to other veterans that are having the same struggle converting their military experience to civilian terms was both humbling and empowering." She went on, "As I have been scanning in resumes for my internship site, I now realize how valuable the classes and career counseling opportunities we have been provided through the VET initiative really are."
Sponsored by the Prudential Foundation, the Veterans Employment Trajectory (VET) Initiative is designed to cultivate veterans' career advancement and workforce preparedness. This 10-week professional immersion program serves as a platform for increasing veterans' access to quality jobs and preparing them to transition from university life to the civilian working world.
About the Author

Follow on Twitter Visit Website More Content by The Washington Center