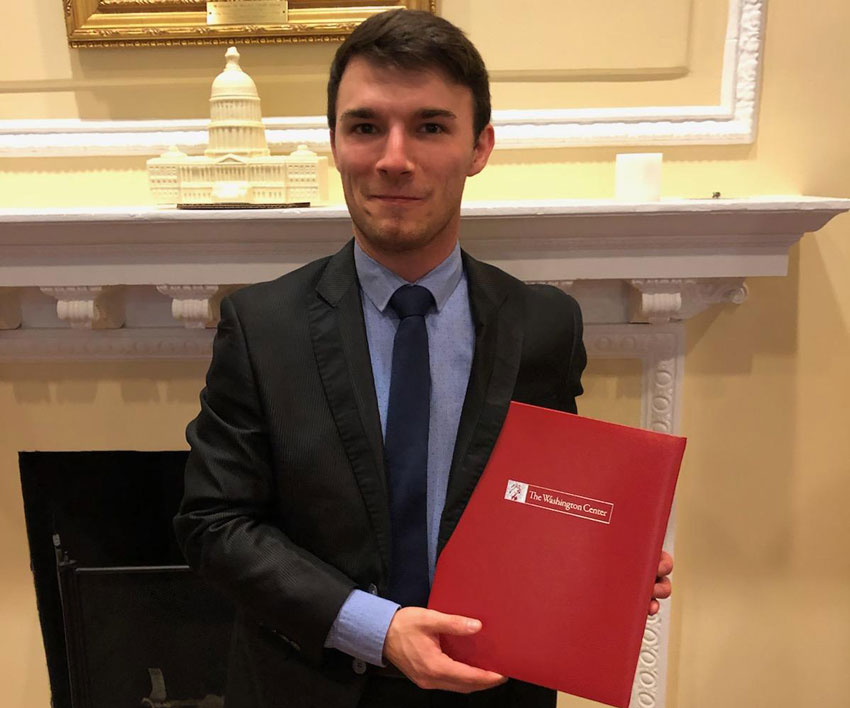 Life in D.C. as a VET intern differed vastly from the two years Alex Palmer was stationed there as a Marine. TWC's VET Initiative was a "go and grow" opportunity during his college career, and his internship provided experience at a startup that will serve his entrepreneurial career aspirations.
In observation of Veterans Day 2019, The Washington Center will honor our interns who have served in the military in addition to their academic pursuits, and celebrate our internship partners who host them. The Veterans Employment Trajectory (VET) Initiative helps student veterans — like Alex Palmer — translate their unique blend of military and college skills into successful careers.
---
What is your name, military branch and years served, school, and major?
I am Alex Palmer, a five-year Veteran of the United States Marine Corps (2012-2017). Currently, I attend Northeastern University where I'm pursuing a Bachelor of Science in Business Administration in entrepreneurship and new-venture management.
What challenges did you face as a veteran transitioning to civilian student life?
The first major issue that I faced as a new student Veteran was finding my community, a tribe that I fit into as a 22 year-old man. I was used to high standards and have a "different" sense of humor than the kind I found I encountered in the civilian world. I wanted people who I could actually spend time with in- and out-of-class that I could speak to freely, without being judged or lionized as a service member.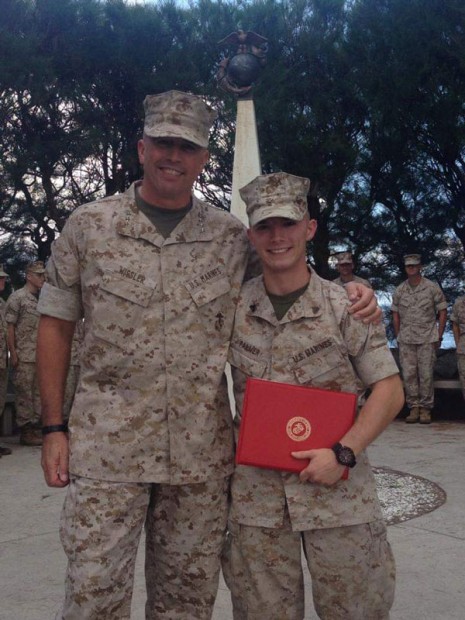 What most attracted you to the VET Initiative program?
I was stationed in Washington, D.C. for more than two years and felt like I had missed so much during my time there. I also saw the VET Initiative as a way to use the summer to make myself a better working professional at little financial cost to me, which made it a feasible option. Just as important, I wanted to expand my community and be part of a family for the summer, as people and relationship-building are two of my greatest passions.
Where did you intern and what did you enjoy most about your internship?
I had a dual-internship at 1776, which is a startup incubator-accelerator in Crystal City and now in D.C., and with one of their most promising startups, Bear Analytics. I loved the classes and events I got to organize, develop marketing materials for and participate in at 1776. I developed some amazing and novel skills during the experience, like how to create slackbots for websites and seek out B Corp certifications. I enjoyed the daily challenges and small team experience that I had working for Bear Analytics because of the personalities, skills, and gifts and talents their entire team possessed. It was both humbling and motivational.
In what ways did your internship contribute to your professional development?
I went in every day and learned something new about what it takes to be a successful and innovative entrepreneur. From honing Excel skills to obtaining proficiency in Canva, I learned a number of things that have widened my knowledge-base and increased the number of tools that I have at my disposal. When I start my business venture and look to steer it successfully, I will call back on my VET experience and development.
What was the most impactful outcome from participating in the VET Initiative?
I would say that the greatest impact came from the people that I met. Whether professionals in D.C. or fellow interns in my VET cohort, the people I met and interacted with have added value to my life in so many ways. I will look to the lessons and resources I picked up from them when I am out in the professional world.
When I start my business venture and look to steer it successfully, I will call back on my VET experience and development.

TWC VET Initiative Alumnus Alex Palmer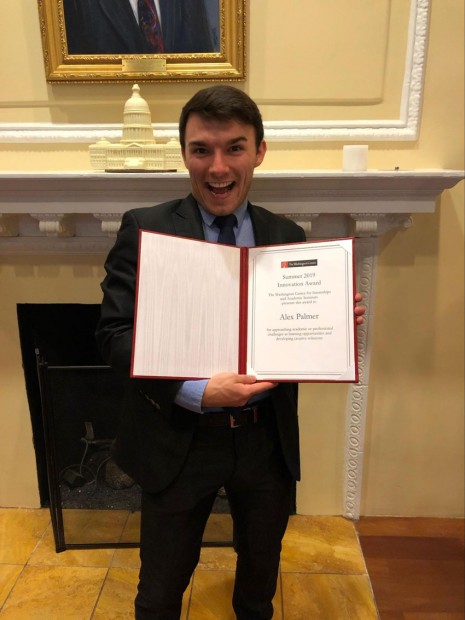 Which skills were you able to translate from the military to your internship? How did this experience help you develop or discover new skills or competencies?
I never actually realized that searching for cigarette-butts and trash while police-calling would be useful for anything other than searching for IEDs or hard-to-find enemies on patrol. As soon as I began scanning Bear Analytics's demonstration database I was developing for function and input errors, I acknowledged that the Marine Corps mentality was living on in me. The work-ethic I had gained in the military allowed me to complete five days of work in two, for each of the companies I interned with. In terms of new skills, I had no real understanding of business analytics before this opportunity. I even had to look it up when I found out I would be working with Bear Analytics so I didn't feel like I was going in blind. I now realize the value of analytics and the success I could have in the field if I were to pursue that directly. Additionally, I became more familiar with different marketing and sales software, including Canva and HubSpot Sales Software, that were new to me but imperative to my business goals.
Were you able to build or expand your professional network? If so, how?
Tenfold. I not only had the opportunity to sit down with and get to know the founders of Bear Analytics and their teams, but I was also able to meet entrepreneurs and speakers that taught classes, led teams, and advised other business leaders through 1776. I was given plenty of time to meet with the amazing leaders through The Washington Center, people like Barrett Bogue, Michael Duerr, and Diana Catalina Peña Peñaloza. I also attended events with organizations like Prudential, Bunker Labs, and the International Spy Museum where I met even more impressive leaders in the D.C. professional world!
How has the VET Initiative helped shape or impact your career goals?
It confirmed my desire to be an entrepreneur while also informing me of the costs. I developed a great respect toward the struggle to make things work and a certain confidence in my ability, thanks in part to the many resources and skilled professionals that the business world has to offer. I wish to start my own business - what that will be remains TBD - or become an organizational transformation consultant for an organization like Deloitte. My options are open as I still have a couple of years before I will graduate from Northeastern.
What advice would you give other student veterans who are considering applying to the VET Initiative?
When you get to D.C., volunteer for every opportunity that you can. Whether it be hanging out and grilling on the roof with the other veterans or attending a networking event in the city, Washington, D.C. is full of motivated and dedicated individuals that come from every walk of life that you can imagine, and you are doing yourself a disservice if you choose not to seek out the opportunities as they come. Sure, you may be a little tired, but the opportunity you pass up today may be an experience that would have proven pivotal toward your future success. The things that my fellow interns and I learned from simply being willing to "go and grow" often brought us home feeling so grateful for The Washington Center and Prudential for providing us with such a wonderful, once-in-a-lifetime opportunity.
The Washington Center's Veterans Employment Trajectory (VET) Initiative offers student veterans a path to demonstrate the skills and experience acquired from their service and make significant contributions in the civilian world. If you're a student veteran looking to apply your skills in the civilian professional world, learn more about the VET Initiative here.
About the Author

Follow on Twitter Visit Website More Content by The Washington Center